KIN LONG & NEXNOVO transparent led displays
Turn Glass into Advertising Displays in Seconds
What is the ideal combination of architecture and glass?
Firstly, it surely needs to have transparency! Insufficient natural lighting will result in dark ambiances spaces. This will causes people to be a little gloomier and less energetic. Secondly, it needs to be environmentally friendly, with a fusion of technology and design!
With the continuous changes of market values and technology expectations, traditional solutions have problems meeting the current demands. The transparent LED displays are up to par with the market expectations, not affecting the architectural appearances, amazing performances and eco friendlier matches these new requirements. It can not only help designers to achieve aesthetic creativity, improving the competitiveness of their project design, but, it can also enable buildings to achieve multimedia splendor, enhance visual impact and advertising revenues.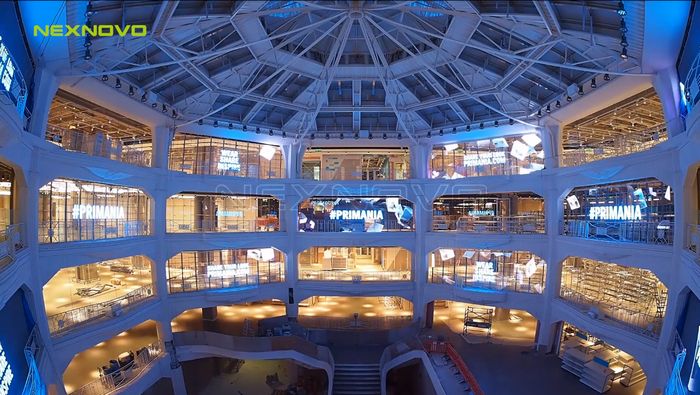 PRIMARK, Spain

This products series have are ultra-transparent LED displays with up to 90% transparency, high-definition, flexible customization and other exclusive NEXNOVO characteristics. Having brightness exceeding 7500 nits will insuring the content visibility even in direct sunlight. This series of products are widely used as building curtain walls or any other situations, spaces, which require transparent LED displays.


High-definition · Ultra-transparency · Integrated with Architecture

Traditional LED displays are not ideal for window advertising or media facades because of their lack of transparency and bulky look and feel. Having the transparency will allow the day light to enter the interior space and keep it bright and leave the open sensation. NEXNOVO XRW series transparent LED displays are air-permeable, light-transmitting and do not obstruct the sight. They have both indoor display and lighting effect. The irregular building keel can be perfectly fitted with the customized module and integrated with the building.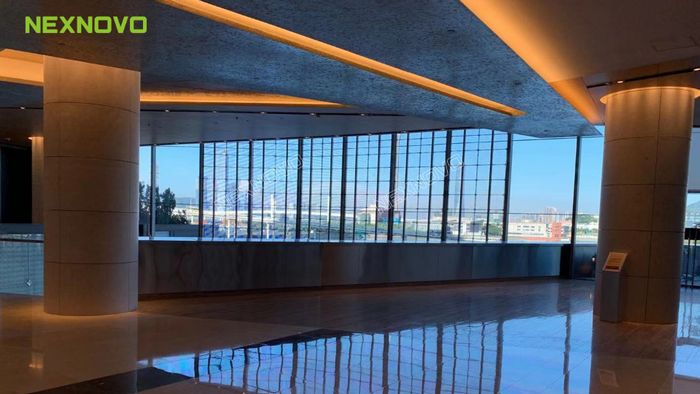 ONE CENTRAL, Macau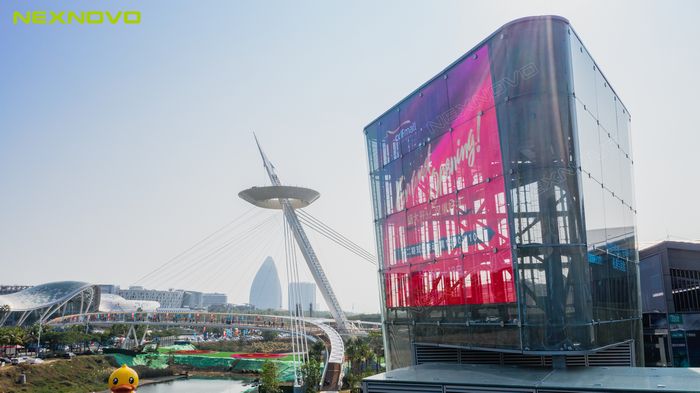 Sanya Internation Duty Free City II

Lightweight · Easy Install and transport
With all the structure and power supplies, weighing in at only 12kg/㎡ ! Less than half the weight of traditional LED screens, making them easier to install and to transport.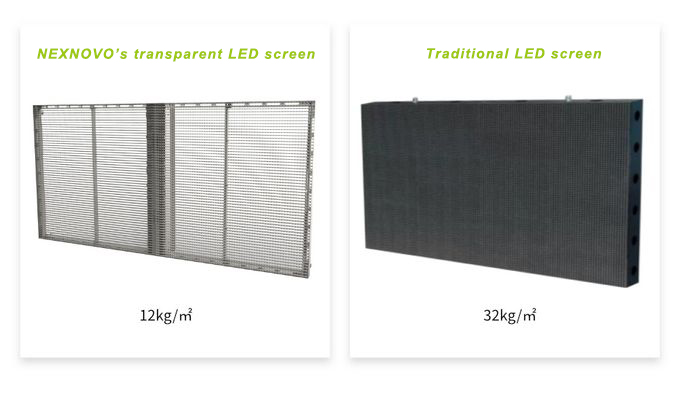 Energy Savings · Enhanced experience and creativity
By using the transparency features of the NEXNOVO displays, creative and interactive video content can be played with black backgrounds. What does it all mean? Energy savings and transparency effects are the two defining elements. The goal is capturing your audience's attention, giving them an experience while looking at the creativity of one's advertising or displays. LED lamps do not emit light under a black background, which will reduce energy consumption by more than 30%, and give the viewers a see through experience.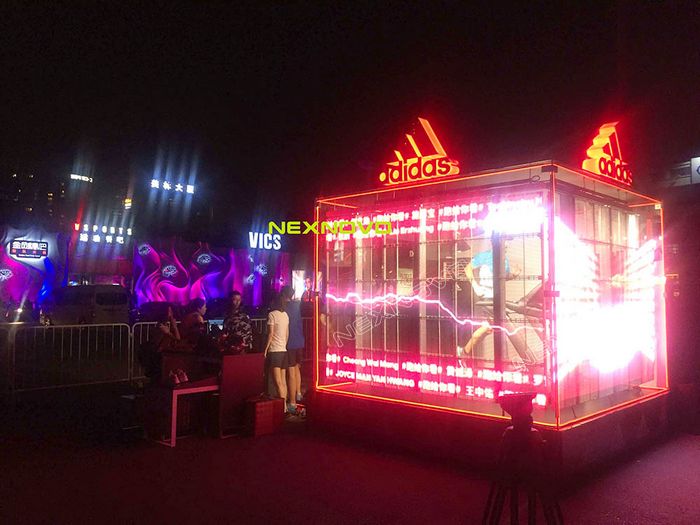 Adidas, Beijing

Easy Installation · Easy Dismantlement
Built-in power supplies and integrated modules makes for quick setup. It supports upper and lower fixed or hanging installations. Without steel frame structures, the installs are fast and efficient, easy and convenient.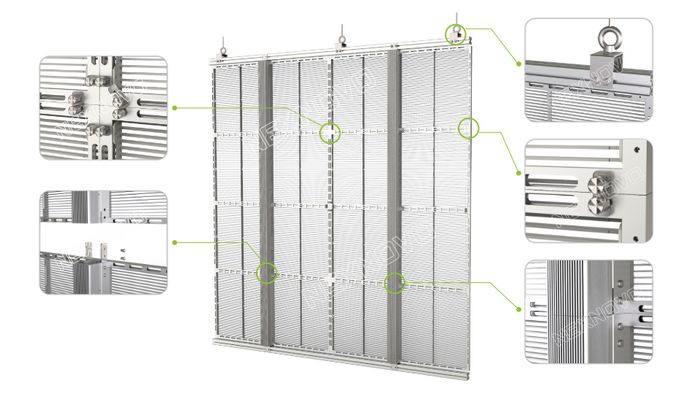 Simple Maintenance · Long Life
When a single LED lamp fails, there is no need to worry about replacing the entire module, just replace a single LED strip or even only that single lamp. Lower maintenance cost, long product life.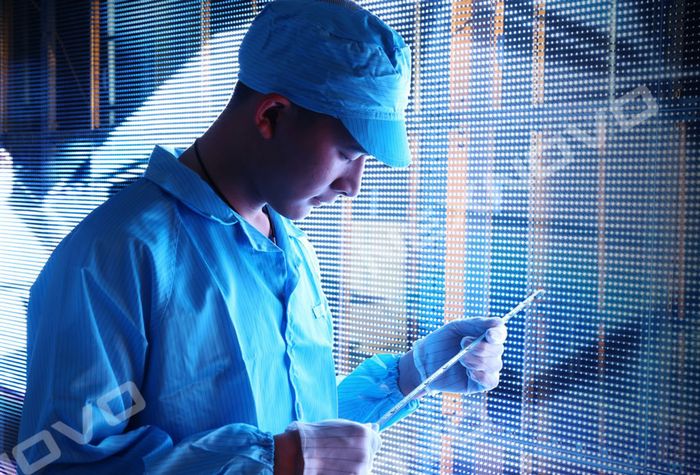 Application Cases
---
Application for glass curtain wall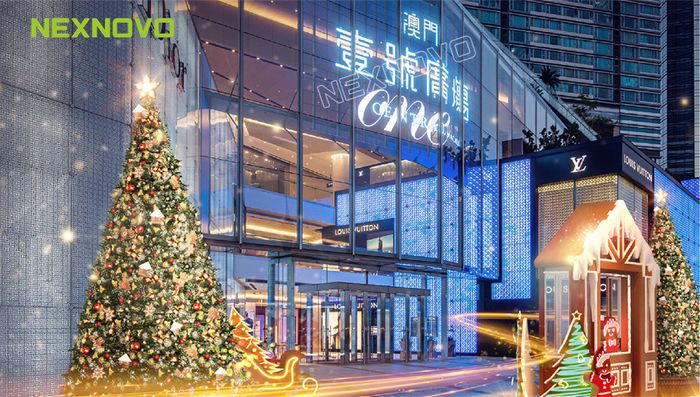 Application for commercial atrium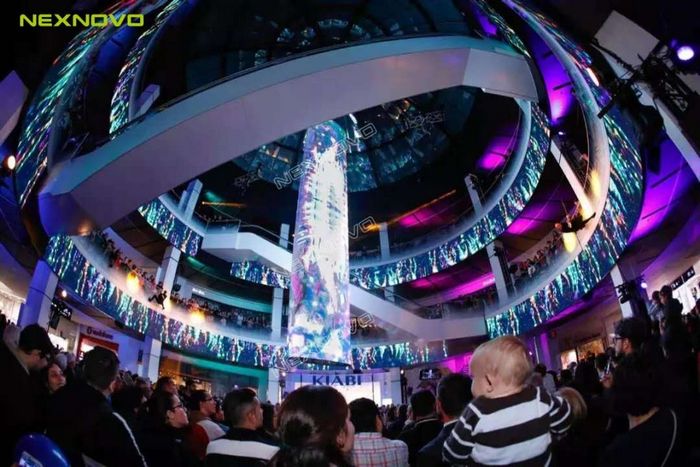 Application for sliding door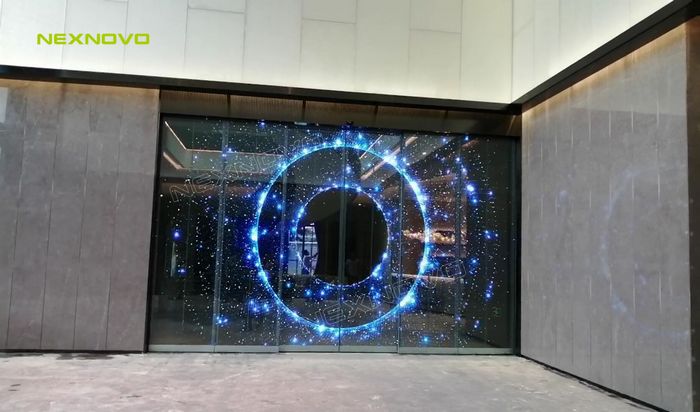 Application for sightseeing elevator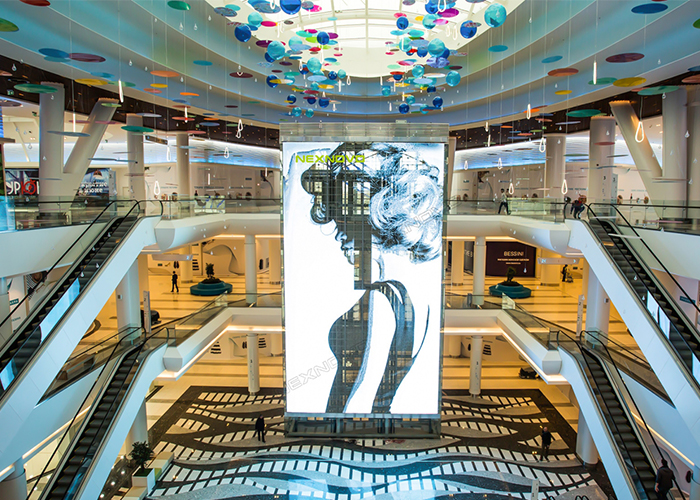 Application for shopping mall barriers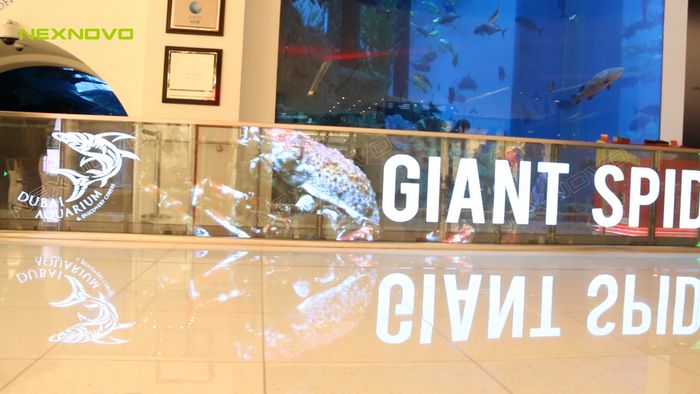 Application for brand stores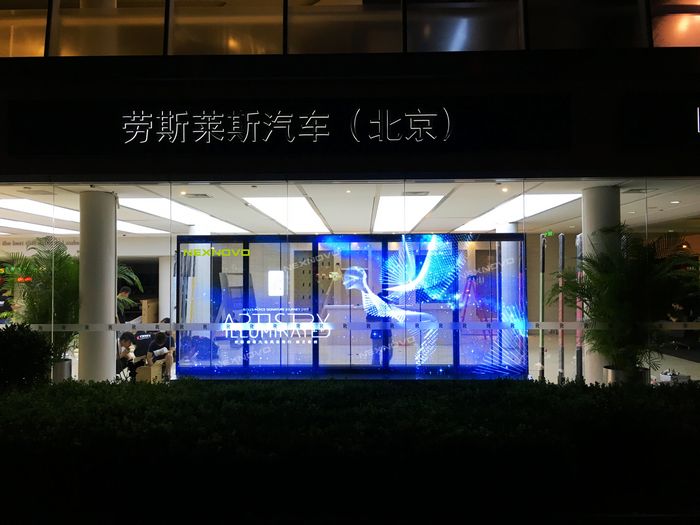 Application for shopping mall escalator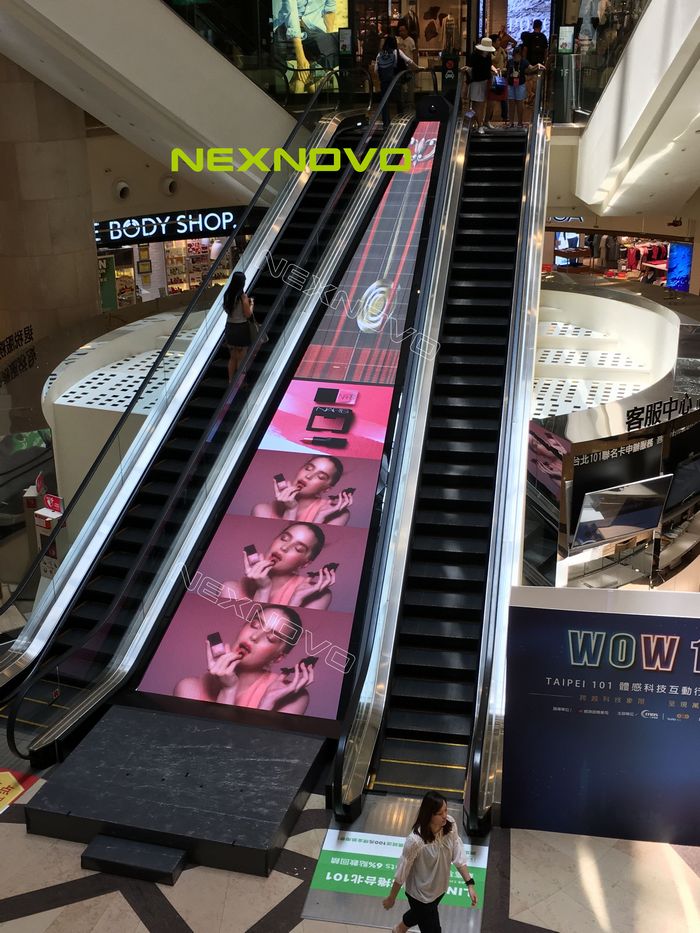 Application for rental & show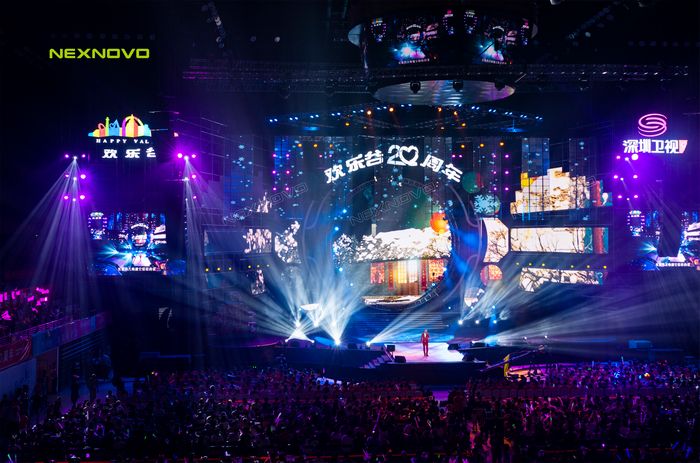 Application for partition wall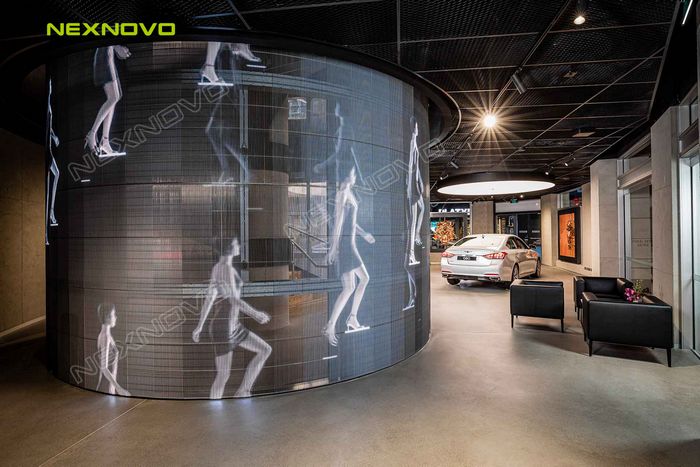 Technology in priority · Exploring the value of public spaces
With the continuous development of society, people have higher expectancies as for the functions and appearances of buildings. The government, private sector, and capital are paying more and more attention to the "new infrastructures" and "smart cities", which are undoubtedly a powerful catalyst for the digital media world and architectural design fusions. Large advertising and digital concepts are ushering in rounds of great world development opportunities. NEXNOVO transparent LED displays & KIN LONG turn glass into advertising displays and digital showcases in seconds, which provides much more possibilities for the architectural design industry. It will also push to further explore the value of public spaces and help the innovation and transformation of new and old commercial complexes.


----------------------------------------------------
Get more information updates about LED transparent displays via NEXNOVO LinkedIn, Facebook, Twitter, Instagram, Youtube, Website.