NEXNOVO glass LED displays have been awarded "The Nobel Prize" of the
Windows & Doors facade industry.
The 6th WINDOOR FACADE INNOVATION AWARD 2020--NEXNOVO NE Series Glass LED Display
The awards ceremony successfully ended on May 13th, 2020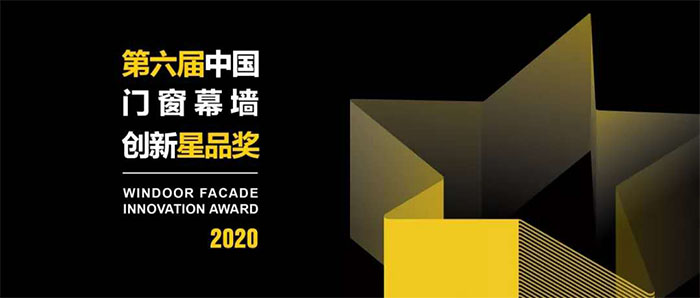 The WINDOOR FACADE INNOVATION AWARD, "The Nobel Prize" of the Windows & Doors facade industry, is appraised and awarded by the real estate developers, engineering designers and industry experts. Launched in 1995, Windoor Expo China is the first expo of its kind in Windows & Doors façade. Now it has become the leader and the must attend event of the industry.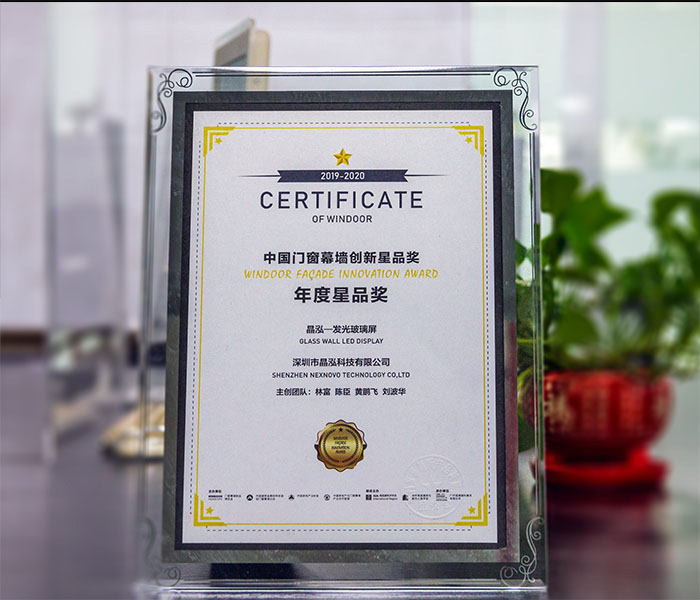 Due to the epidemic situation, the ceremony was broadcasted on a live stream, giving the audience the chance to witness these awards. Under a strict and distinctive selection from the committee, which was based on "Technology, Quality, Energy-saving, and the assessment of market potential". The NEXNOVO NE series ''transparent glass LED displays'' were awarded for their outstanding performance and commercial value.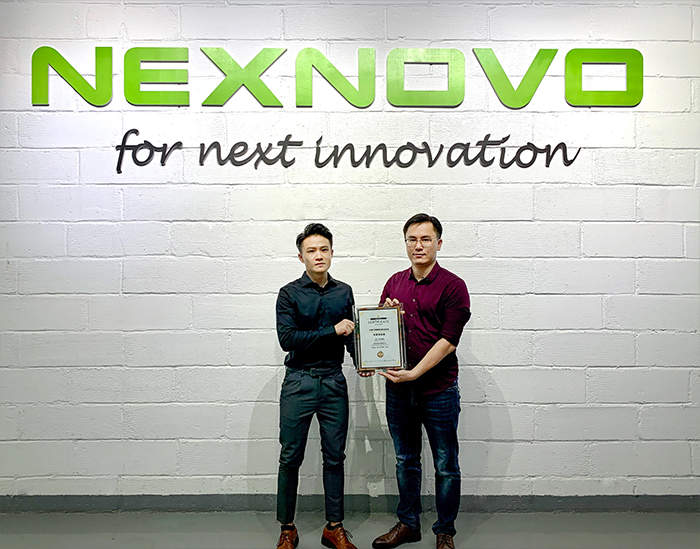 Mr. Yu You, COO of Windoor Expo China, and to his right Mr. Lin Yi, CEO of NEXNOVO.
The winner, NEXNOVO transparent glass LED display series.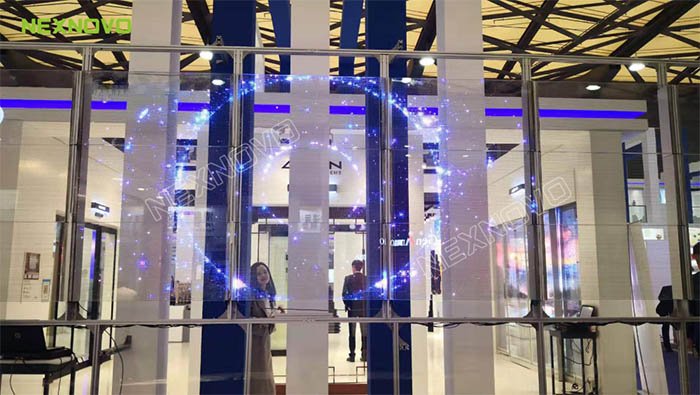 Nexnovo Glass LED use high density industrial tempered glass as the base material to combine with their patented integrated-IC technology and its applied Nano film circuits. These techniques combined, gives way to a super-high transparency and high energy efficient glass LED display. This products is widely used for building facades (as architectural lighting or advertising displays), commercial spaces, elevator facades, balustrades of mall atriums, retail windows and so much more. The glass LED can be used as construction component glass for new buildings, or simply attached at the rear of current existing glass facades.

These glass LED displays can work with characteristics of light and color without destroying the appearance of a building, it combines image and imagination perfectly with ultra-see-thought effects. Transforming the glass into an advertising display and expanding possibilities of new media spaces for architectures. Which in itself, creates such an eye-catching product and new "landmark" for the city. At the same time, it greatly helps architect achieve their aesthetic ideas of colors, lights and spaces, bringing sustainable advertising revenues to the owners.
---
NEXNOVO transparent led display projects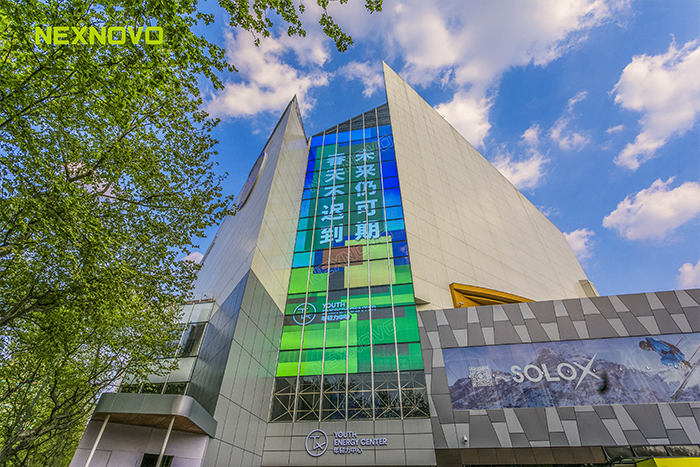 TX YOUTH ENERGY CENTER in Shanghai, China in 2019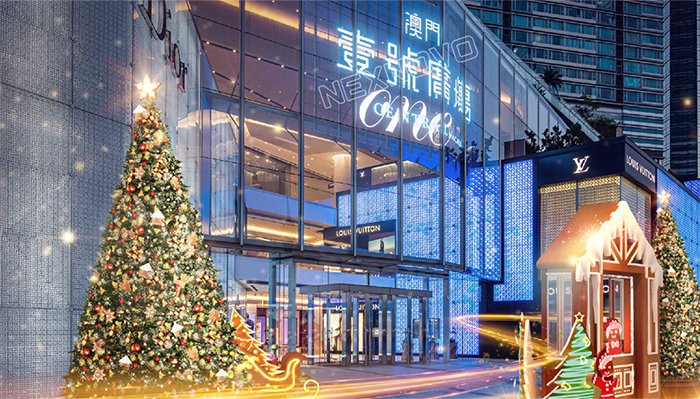 One Central Macau in 2019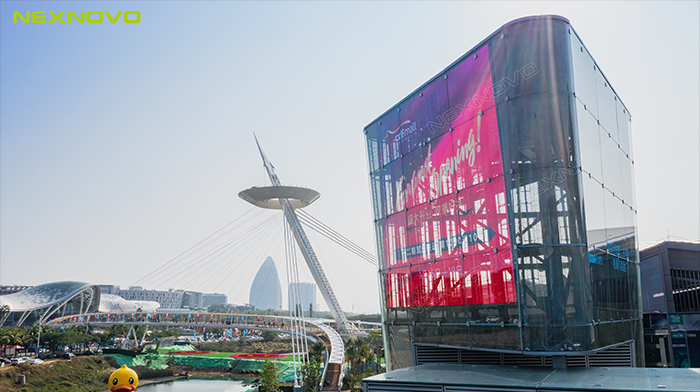 Hexin Islands in Sanya City, China in 2019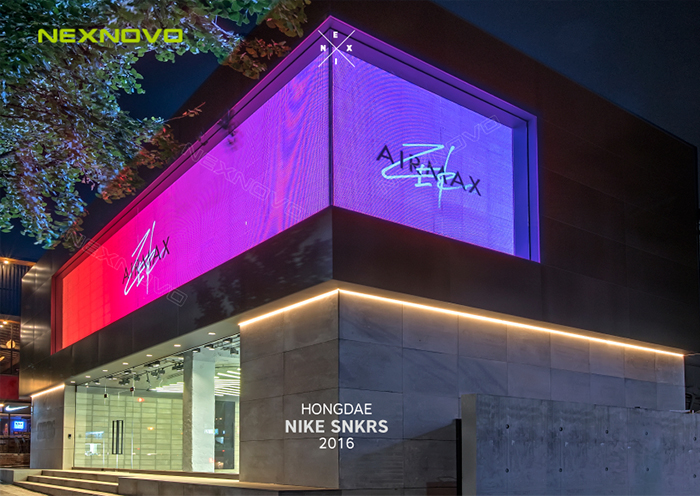 One of many Flagships stores of Nike in Korea, 2016
After the award ceremony, the host Mr. Yu You ( COO of Windoor Expo China ) conducted an interview with Mr. Lin Yi ( CEO of NEXNOVO), which was broadcast by over 100 mainstream live platforms and medias.
It is reported that WINDOOR Expo releases and expose over 23,000 new products every year. It is a must-see exhibition for top 100 developers, high-quality distributors and engineering groups. By winning the INNOVATION AWARD among many leaders, it also proves NEXNOVO's strong strength, commitment in product innovation, the outstanding contributions to the world of architectural design and technological innovation
In fact, NEXNOVO has been specializing in transparent LED displays since 2009 when the CEO Mr. Lin Yi invented the world's first transparent LED display. As the "National High-tech Enterprise" recipient for six years, quality and innovation have always been part of NEXNOVO's DNA. Providing high-value-added innovative and high-quality products to customers, NEXNOVO becomes the only enterprise with two publicly traded companies as participating partners in the transparent LED display industry.
In the future, NEXNOVO will continuously increase its R&D, and improve its comprehensive industrial capabilities in terms of been driven by design, manufacturing, quality control, applications, services. Bringing more innovative solutions to the market is the goal.

----------------------------------------------------
Get more information updates about LED transparent displays via NEXNOVO LinkedIn, Facebook, Twitter, Instagram, Youtube, Website.